Blog Topic
Revolutionizing E-Commerce with Kyptronix: Your Ultimate Destination for E-Commerce Website Development in DE
Published Date: 26th Sep, 2023
Written by: Admin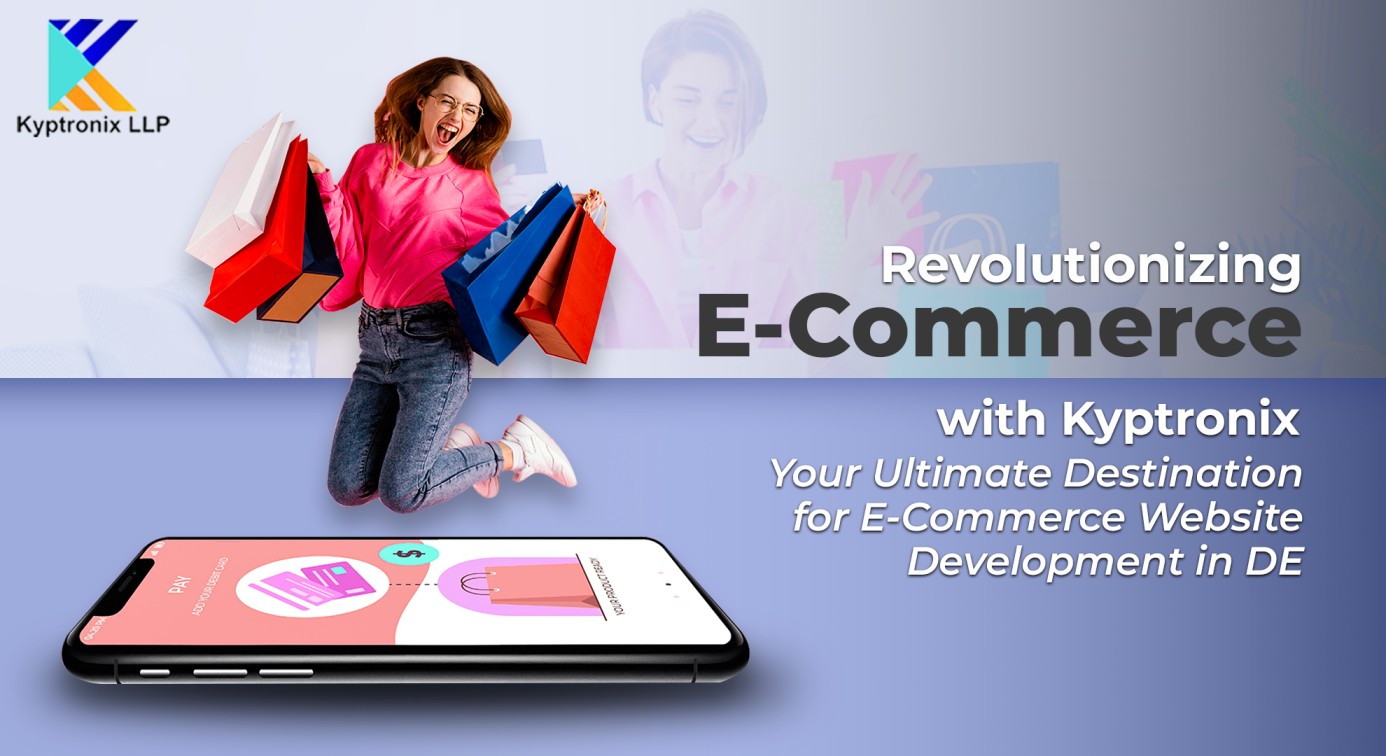 In the digital age, the world of business has undergone a profound transformation,with e-commerce emerging as a driving force behind economic growth. This trend isno different, as consumers increasingly turn to online platforms for their shoppingneeds. To succeed in this competitive landscape, businesses need more than just an online presence – they need a well-crafted, user-friendly e-commerce website that can capture the hearts and minds of their customers. Enter Kyptronix, the trailblazer in e-commerce website development in DE.
Crafting E-Commerce Excellence
At Kyptronix, we understand the intricate dance of technology, design, and user experience that shapes the success of an e-commerce website. With our years of experience and a team of skilled professionals, we are dedicated to crafting e- commerce excellence tailored to the unique needs of businesses in DE. Here's why we are your ultimate destination for e-commerce website development:
1. Tailored Solutions for Businesses
We recognize that every business is unique, and so are its customers. Our team takes the time to nderstand your specific requirements, target audience, and industry trends to design a custom e-commerce website that resonates with your brand and engages your customers effectively. We don't believe in one-size-fits-all solutions;instead, we deliver tailor-made websites that drive results.
2. User-Centric Design
In the fast-paced world of e-commerce, first impressions matter. Our expert designers ensure that your website not only looks visually stunning but also provides a seamless and intuitive user experience. We focus on creating user-centric designs that make navigation a breeze, reducing bounce rates and increasing conversion rates.
3. Cutting-Edge Technology
The e-commerce landscape is ever-evolving, and so is technology. We stay at the forefront of echnological advancements, using the latest tools and platforms to build secure and high-performing websites. Our developers are proficient in various e-commerce platforms, including Magento, WooCommerce, Shopify, and more, ensuring that your website is equipped with the best technology available.
4. Mobile Responsiveness
With the majority of online shoppers browsing and buying on their mobile devices, having a responsive website is crucial. Kyptronix ensures that your e-commerce website is fully optimized for mobile, providing a seamless shopping experience across all screen sizes and devices.
5. SEO and Marketing Integration
A beautiful website is of little use if it doesn't attract traffic. That's why we integrate Search Engine Optimization (SEO) best practices into every website we create.Additionally, we offer digital marketing services to help you drive targeted traffic and boost your online visibility.
6. Ongoing Support and Maintenance
Our commitment to your success doesn't end with the launch of your website. We provide ongoing support and maintenance to ensure that your e-commerce platform remains secure, up-to-date, and capable of adapting to changing market dynamics.
Conclusion
In the world of e-commerce, where competition is fierce and consumer expectations are high, having a professionally designed and optimized website is no longer a luxury but a necessity. Kyptronix is here to guide German businesses on their journey to e-commerce success, offering tailored solutions, user-centric design, cutting-edge technology, and ongoing support. Join hands with us to revolutionize your online presence and establish a dominant position in the digital marketplace. Contact Kyptronix today and take the first step towards e-commerce excellence in DE.